Europe's Hottest Selling Cat Toys!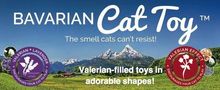 Prairie Dog Pet Mercantile is proud to carry Bavarian Cat Toys in Spokane, Washington. Handcrafted in Germany by the Aumueller-Korbwaren family, they feature Bavarian-grown ingredients such as valerian, lavender, and anise. Natural spelt filling gives the toys shape and assures long-lasting quality and fun.
Toys for Cats
Cat Toys: Baldi-Mouse, Cat Face Willy, Fred Fox, Heart, I Love My Cat, Owl, Welli-Fish, Welli-Stick
Sacks & Cushions: Annabella Cushion, Annabella Sack, Baldini Sack, Lilo, Patchwork Cushion, Patchwork Sack, True Love
Pillows: Pillow Annabella, Pillow Patchwork
Holiday Styles: Christmas Tree, Jingle Bells
Come visit our pet supply store in Spokane, WA specializing in quality raw food, treats, and supplies for cats and dogs.